May 9, 2022 12:11 pm | by WCBL | Posted In Feature News, News
By IAN WILSON
These Beavers are eager to get back at it.
After losing two straight seasons to the COVID-19 pandemic, the Weyburn Beavers are excited about bringing Western Canadian Baseball League (WCBL) action back to their community.
Head coach Dusty Kerns, an Idaho native who played for Weyburn in 2013, will look to usher in this next era of Beaver baseball.
Kerns is an assistant coach with Columbia Basin College in Pasco, Washington who was a Gold Glover at Bellevue University. He was a versatile player who played both in the outfield and behind the plate.
The last time we saw the Beavers play ball they went 33-22 in the 2019 season. They led the WCBL in home runs – with 53 – on the back of slugger Jack Barrie's 19 regular-season round trippers. The Beavers generated more walks than any other club and finished second in runs batted in (RBI). Garrett Perez also lit up the base paths for Weyburn and set a WCBL record for stolen bases with 40 swiped pillows.
Barrie and Perez will not be back this season, but first baseman Nolan Machibroda will try to spread some Beaver fever in Western Canada. The Saskatoon native played 41 regular season and playoff games for Weyburn in 2018 and 2019, batting .281 while collecting 24 RBI in that time. More recently, Machibroda was named the Mid-South Conference Player of the Year for his efforts at Cumberland University. The senior was a beast this year in the National Association of Intercollegiate Athletics (NAIA), posting a .471 batting average, a .566 on-base percentage, 15 homers, 77 RBI and 49 runs in 44 games played.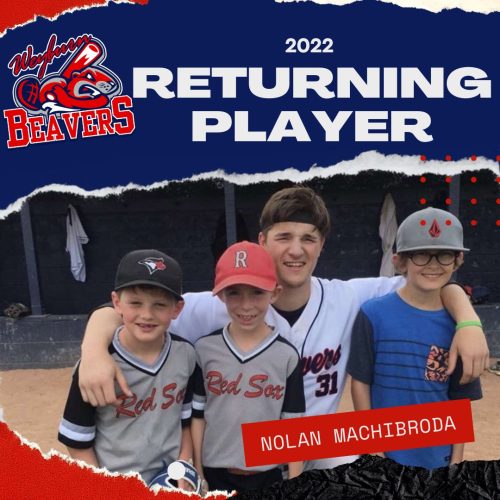 FRESH FACES
Machibroda will get help from some newcomers, including shortstop Braeden Cordes of Spokane Community College. In 26 games this year, Cordes has a .369 batting average, 25 runs, 19 RBI and seven swipes.
California outfielder Hector Carreon will bring another hot-hitting bat north of the border. The sophomore with Eastern Oregon University has a .308 average, 22 RBI and four round trippers through 32 games this season.
On the bump, watch for right-handed pitcher Jared Miller out of Mount Marty University. He's a product of Mitchell, South Dakota.
Other key pitchers expected to take the mound for Weyburn include Calgarian Jared Eifler – a righty from Shoreline College who has 21 Ks and a 3.80 earned run average (ERA) in 2022 – and Taft College's Austin Hogan. In 11 appearances this season, the southpaw has 16 strikeouts and three saves during 10.1 innings of work.
AROUND THE HORN
Handling the pitchers behind the dish for the Beavers will be Nick Baker of Iowa Central Community College. Through 44 games for the Tritons, the catcher scored 37 runs with 31 RBI and an impressive .375 average. Baker also got on base at a better than 50% clip.
Fielding grounders at second base will be Will Baker, who has played 63 games for Columbia Basin College over the last two years. He batted .250 with 44 runs in that time.
Caelan Dalman, of Allan Hancock College, is expected to suit up at third base. He's posted a .281 batting average and a .431 on-base percentage in 23 contests this year.
The pride of Alameda, Saskatchewan – Tyren Dorrance – will join Carreon in the outfield. Dorrance plays with Hogan at Taft College, where he has a .250 batting average, 24 runs and 17 RBI for the Cougars in 53 games over the last two seasons. Also slotted for time in the outfield is California product Blaine French, who has 19 RBI and a .288 average for the Delta College Mustangs through 29 games in 2022. French can also play at first base.
Emporia State University's Patryk Hernandez is expected to handle designated hitter responsibilities, but he's another player who can fill in at first base.
BALLPARK UPGRADES
Weyburn's Tom Laing Park, which was built in the late 1980s, is slated to receive a $50,000 facelift. Upgrades are planned for the facility's siding and walk-in doors, as well as press box improvements to the internet connection and overhead doors. The facility has the capacity to handle crowds as large as 600 people.
The sweet smell of smoked meat will greet baseball fans, courtesy of local favourite catering company LowBrow BBQ. The company will offer a number of new and delicious options for diamond dwellers and groups that book an outing at the new Penta Completions VIP Fan Deck.
The Beavers open their season at home when the Swift Current 57's visit Tom Laing Park on Friday, May 27th, with first pitch set for 7:05 p.m. The two teams will lock horns again in Weyburn on Saturday, May 28th.