May 27, 2022 10:26 am | by WCBL | Posted In Feature News, News
Share on Social Media
By JAMES TUBB
It's been a long two years but Medicine Hat Mavericks baseball is back in action.
The Western Canadian Baseball League club started their mini camp Tuesday ahead of the season opener on Friday, May 27th in Moose Jaw against the Miller Express. It will mark the first game the Mavericks have played since the 2019 season due to COVID-19 shutting down the 2020 season and the club not participating in the 2021 shortened season. The Mavs home opener is set for Sunday afternoon against Moose Jaw.
Owner and general manager Greg Morrison spoke to the Medicine Hat News on Wednesday ahead of the team's Fan Fest about his excitement for the season.
"I can't stop smiling, excitement and nerves all bundled up into one" Morrison said. "For me being on the field with the guys is a big, you know, big piece of why I do this."
Morrison missed the first day of mini camp as he was stuck doing office work. When Wednesday rolled around he was out on the field throwing BP to his players and had the chance to put names to faces for a lot of them.
"We have a solid ball club, Morrison said. "We have some solid bats, some really good swings, good approaches and strength on the defensive side of it."
When asked what he thinks of his team so far and their strengths, Morrison said he's too superstitious to start predicting or over-speaking about the players.
"We're a very modest organization, these guys know that, we're looking good," Morrison said. "We look like a good baseball team fundamentally; defensively, hitting, I'm really excited."
Morrison was more than willing to speak about the $3-million renovations to Athletic Park started in 2020. He said the renovation process has been surreal and will be ready for first pitch Sunday.
"I just can't believe these deadlines have been met and have people stepping up to it, because they know what our deadlines are," Morrison said. "So it's pretty awesome."
Morrison pulled double duty Wednesday while throwing batting practice, as he was helping trouble shoot problems with the outlets in the pillars surrounding the park for food trucks at Fan Fest. He joked that once the season gets into full swing he and the staff will be able to relax a little.
"I joked with our staff that maybe by the sixth or seventh game, we can take a breath and by then, you hope the season's going longer," Morrison said.
He said the coaching staff of head coach Tyler Jeske, assistant coach Michael Forgione and pitching coach Rod White are unique individuals and he loves it.
"Rod, I think is going to add a lot to the pitching side for us, Forg who is an infield and base running specialist. I told the players today, like, that's all I know is the fundamentals," Morrison said.
"Tyler believes in the fundamentals of baseball and believe what you will with trends of baseball going this way or that way. We know that certain things are pillars of baseball to winning and success over a season and 56 games over two and a half months, you have to just do the little things. That's what we all believe in."
Morrison said he does not like having a hands-on approach and doesn't have to with this Mavericks staff, on and off the field.
"I'm not wanting to know everything that goes on, I want to have the option to know but I don't want to know," Morrison said.
"I'd rather be out here, filling water jugs, throwing BP and talking hitting and picks at first base as a first baseman than do other stuff. But in the end, when you have experience, you just you have to be willing to provide that guidance, but not too much."
MAVS MANAGER LOOKS TO BUILD RELATIONSHIPS
Jeske sees himself as the bumpers in a bowling alley.
The Mavericks head coach says he's there to keep his players in the "middle of the lane" where they need to be and says that starts with building relationships.
"There is a technical and tactical side to coaching but none of that really matters if you don't have the right culture, you don't have the right people," Jeske told the News. "I think the other part is, I like to make it fun. I'm not overly intense, I'm a quiet intensity."
The Mavericks announced Jeske, who was a hitting coach at Lackawanna College in Scranton, Penn. this spring, would be the bench boss for the 2022 summer season.
Jeske made the trip to Medicine Hat for his first time in Canada. He said the landscapes stood out to him along the drive, even though he only saw what his headlights illuminated. Jeske said he is ecstatic and grateful for the opportunity to coach this season in Medicine Hat.
"I think all the old-time baseball people that I've talked to, they all say 'Medicine Hat, like that's one of the ideal cities,'" Jeske said. "To me, that's a huge thing because it adds to the excitement, it adds to the team, the fans become a big part of everything that ends up happening on the field and we'll go through this season."
This season will be Jeske's first as a head coach. He says he's not nervous yet but is sure that will change come the Mavericks' season opener in Moose Jaw against the Miller Express.
"It's something I've been wanting to do and something I've been preparing for. I take a lot of notes, I write everything down," Jeske said.
"Over the past five years, I've amassed this massive plan, and it's constantly evolving. The manager when I was with the Angels was Dave Stapleton, he's like a father figure to me, and throughout last season he's like, 'you're gonna end up managing, you're gonna end up managing.'"
Before working at Lackawanna, Jeske was a minor league hitting coach with MLB's Los Angeles Angels from Nov. 2018 to Oct. 2021. He said he's prepared for the added responsibility of being a head coach and no longer having the hitting-coach relationship with players. He said he's also looking forward to working alongside Forgione and White.
"As a hitting coach you get to be the fun older brother, or the fun uncle. But as a head coach or manager, you have to be the dad," Jeske said. "You have to be the dad who is willing to put the foot down, that's all part of it. I'm looking forward to (working with) Forgione, he's younger, it's like, I was in your shoes five years ago. So I'm really looking forward to that dynamic because I know where he's at. I've been there and I'm really looking forward to just being able to help him with that."
Away from the field Jeske said he doesn't do much besides making a point to watch an MLB game. He doesn't have a specific team he roots for but instead follows individuals he knows in the game like Luis Ortiz, the assistant hitting coach of the Boston Red Sox.
He said the one things he's learned in his career so far is that every player is a person and they have to be treated as such if you want to get the most out of them.
"Just treat them like people," Jeske repeated multiple times. "Treat them like people, that's when you'll really build relationships, and it's really not all that different, I think, especially in that lifestyle. You're dealing with media, you're dealing with social media, publicity, fans and all sorts of distraction off the field. But at the end of the day, how can you be the person who kind of help them keep calm and centred amidst the chaos."
HAT BROTHERS SHARE MAVS DREAM
Mavericks fans will have any easy time remembering the names of three players this summer.
The Stark brothers – Nathan, Zachary and Josh, all from Medicine Hat – will be playing on the same team for the first time ever as they don the Mavericks red this season.
Nathan, a right-handed pitcher, is the oldest at 24 and played three seasons with the Mavericks from 2017-2019. He was joined by 22-year-old Zachary, a catcher, in 2019 as the duo represented their hometown. Now, Josh will make his Mavericks debut at the age of 20.
The oldest Stark said it's going to be special to share a clubhouse with his brothers.
"I haven't been able to play with Josh ever, so this is something special be able to do that," Stark said. "With the age difference we didn't really get the chance, so to be able to have it this season, it's pretty great."
Zachary and Josh also shared a team in high school, as they both represented the Hat High Hawks while Nathan played for the McCoy Colts.
The middle Stark said he thinks the trio of brothers will be something Mavericks fans can look forward to. He said he is very excited to be back and playing in Medicine Hat.
"I'm ecstatic, couldn't be more happier, just a great environment to be around," the catcher said.
There is a strong chance with each of the three brothers playing a different position they will share a lineup card together in one of the Mavericks' 56 games. When that game comes, Josh said it's going to mean a lot to the whole family.
"I know our mom's gonna go out there and be really proud and our dad, too," Stark said. "Just put a smile on their faces and hopefully the fans will love to see it."
The oldest brother said when that lineup card comes together and if they can get their hands on it, it already has a special place to hang.
"Probably on my mom's fridge, put it up there for everyone to see," Stark said.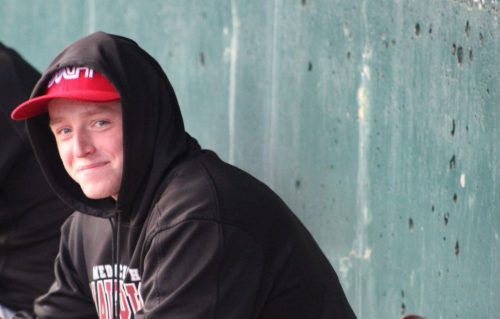 Nathan and Zachary are two of the four returning Mavericks this season after the club has not played since 2019 due to the COVID-19 pandemic. The elder Stark said he is looking to provide a good example for the new Mavs.
"I was kind of a younger guy in this position before, didn't really know much of the game and I was able to learn a lot from the guys before that," Stark said. "If I can just teach some guys and just try to be a good role model for these kids, is what I'm most likely trying to do."
Having the experience of growing up and playing in Medicine Hat for 24 years, Stark laughed when asked if he will show guys around and tabbed Echo Dale park as his go-to show-and-tell spot.
"It's kind of a good area just to go out and hang on the off days, catch some sun and throw the ball around a little bit," Stark said.
Morrison was all smiles when talking about the Stark brothers. He said he is looking forward to seeing the three of them on the field together at one time.
"I knew it would be a great story. I have young kids and just to follow those kids at that age and still be doing sports is one thing," Morrison said. "To do it at this level is another thing and to do it at this level on the same team is just miraculous."
(James Tubb is a sports reporter with the Medicine Hat News. He can be reached at [email protected] and on Twitter at @ReporterTubb. Tubb's stories have been reprinted here with his permission).