May 4, 2022 9:55 am | by WCBL | Posted In Feature News, News
A return to form is the hope for the Regina Red Sox this summer.
The last time the team took the field in the Western Canadian Baseball League (WCBL), they were representing the East Division in the league championship against the Okotoks Dawgs in 2019.
While they fell just short in their pre-pandemic title bid, the Red Sox posted a league-best 41-15 record, which was good for a superb .732 winning percentage.
Regina's pitching staff limited WCBL batters to the lowest amount of hits, runs and earned runs of any team on the circuit, while registering more strikeouts than any other squad.
Head coach Jason Veyna – a middle infielder for the Red Sox in 2009 and 2011 – was at the helm that year and he returns for his second year as skipper in 2022 with the goal of guiding Regina back to the championship series.
Veyna will lean on some well-known commodities this season.
Southpaw pitcher Dylan Bells will take the mound after suiting up for his hometown team in 2018 and 2019, when he registered a 4-3 record, a 4.05 earned run average (ERA), and 69 strikeouts through 73.1 innings. The lefty is a K-per-inning hurler with St. Mary's University in Texas this year.
Returning infielders include Dylan Edmands, who saw time with the Red Sox in 2018-19 and is expected to play third base alongside second baseman Sam De La Cruz, a native of the Bronx, New York who has logged 79 games for Regina. In 49 games with Arizona Western College, Edmands is batting .295 with 45 runs, 38 runs batted in (RBI) and 11 stolen bases. De La Cruz has a .303 batting average, 48 RBI and 23 stolen bases in 42 games at Faulkner University this year.
Pilot Butte's Kendell Keller – the brother of former Regina Red Sox star slugger Griffin Keller – will also roam the outfield at Currie Field.
NEW ADDITIONS
A trio of right-handed moundsmen have been signed to bolster the pitching staff: Braden Houston (Lenoir-Rhyne University), Luke Bell (Xavier University) and Dan Raglievich (Post University). Houston is 3-1 with 36 Ks and a 1.88 ERA through 28.2 innings for the Bears this year, while Bell is 4-0 with 41 strikeouts in 39 frames and a 4.15 ERA at Xavier this season. The 6-foot-5 Raglievich has a record of 4-1 with a 4.70 ERA and 57 Ks in 38.1 innings in 2022.
Catcher Mike Kenney will help handle the Red Sox pitchers. In 38 games for Scottsdale Community College, Kenney has a .371 batting average.
Outfielder Nate Bach – who has nine homers, 43 RBI, 42 runs, four stolen bases and a .423 batting average in 40 games with the Allen Community College Red Devils – is another fresh face to keep an eye on.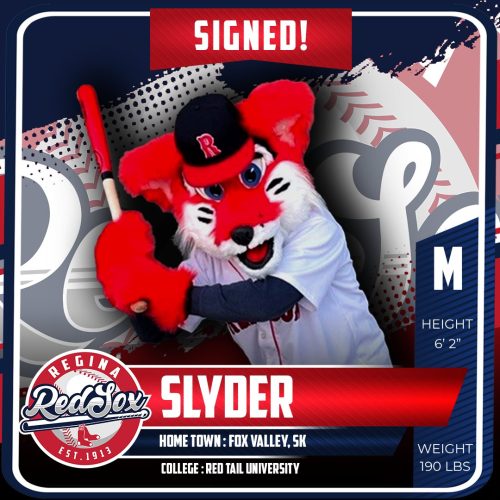 There are a couple of other new looks you'll be able to find with the Regina Red Sox. The team recently unveiled a crisp new logo and a foxy mascot named Slyder.
EXPECTED LINEUP
The combination of new blood and returning players is expected to result in an infield that has Kenney behind the plate, his Scottsdale Community College teammate Cade Nelson at first base, De La Cruz at second base, Edmands at third, and Northeast Community College's Zane Zielinski playing shortstop. Through 46 games for the Hawks this year, Zielinski is batting .382 with 40 RBI and 58 runs, while Nelson has 32 runs and 23 RBI in 45 games for Scottsdale.
Bach will be joined in the outfield by Max LeCroy (Lenoir-Rhyne University) and Michael Zinter (Scottsdale CC). LeCroy has only played nine games for the Bears this year, while Zinter has put up 20 RBI and 25 runs in 40 games for the Fighting Artichokes.
A few other pitchers expected to take the mound for Regina this year are 6-foot-6 Levent Eldem (Coastal Alabama Community College), Jonathan Henry (Albany State University), and Damon Elarton (University of Arkansas at Pine Bluff). Henry – a righty from Whitby, Ontario – has a 3.15 ERA, an 8-1 record and 60 Ks in 71.1 innings for the Golden Rams this year, while Elarton has 30 strikeouts in 45.1 innings for the Lions.
Meanwhile, southpaw Andy Cook of North Carolina will visit the Queen City for the first time this summer. But he'll have some scouting notes on Canada from his father, Lance, who was a defensive end for the Saskatchewan Roughriders of the Canadian Football League (CFL) in the early 1990s.
STADIUM LOVE
The Red Sox will play out of Currie Field in 2022 as they make efforts to bring a state-of-the-art new baseball stadium to Regina.
Team President Gary Brotzel and Al Simpson of Living Sky Sports Entertainment are currently representing the Red Sox on a committee chaired by Regina Exhibition Association CEO Tim Reid. The committee also consists of two City of Regina employees. The working group was formed to put together a business case for the ballpark for city council. That report will be ready by the end of May.
In the meantime, the Red Sox are pulling out all the stops to ensure a great fan experience this summer.
"We have budgeted more money than any past season on creating a fun family atmosphere at Currie Field. It's going to be a great summer with some great promotions at the park," said Brotzel.
Home Plate Concessions, owned and operated by Diane Eiswirth, will once again handle the food and beverages for the Red Sox crowds. The incredible food comes with a reasonable price tag and daily supper specials include tasty Greek ribs and a potato salad that is a diamond delicacy.
SEASON OPENERS
The Red Sox open the 2022 campaign on the road at Mitchell Field in Swift Current on May 29th with a home-and-home series against the 57's. Regina's home opener follows at Currie Field on May 31st.
You can follow the Red Sox on Twitter, Facebook and Instagram, or on their website.